TECHCOMBANK BE IN THE 2018'S TOP 10 BEST WORKPLACES IN VIETNAM
According to the results of the "2018's Best Workplace in Vietnam" survey organized by Anphabe - Intage Vietnam, Techcombank has made a remarkable breakthrough, increasing 7 ranks compared to the list of "Top 100 Best Workplaces in Vietnam in 2017". We ranked # 9 in the market, standing in the same line with other well-known multinational corporations this year.
According to the published results, Techcombank has continued to secure the Top # 2 position in "The best workplace in the Banking - Finance field" chart for 3 years in a row and stayed in the Top # 50 of Vietnamese enterprises with attractive employer brand.
This award is the recognition from the market for Techcombank's relentless commitments and efforts in investing in human resources with outstanding policies, not only to find, attract, retain and develop talents but also aim to improve the work and life quality for our staff, thereby, contributing to the overall performance of the bank.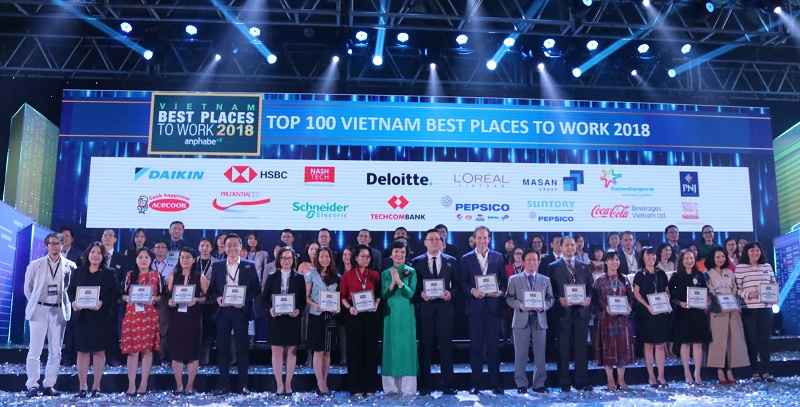 Also in 2018, in addition to the record-breaking business results with consolidated pre-tax profits reaching VND 10,700 billion which was the second highest in the Vietnamese banking system; Techcombank was also honored at prestigious international Human Resources awards such as Vietnam HR Awards 2018 in 3 out of 5 categories; Asia Human Resource Development Awards in the "Dedicating to society" category.....